The average lifespan of a stove and oven is between 13 and 16 years. Gas wall ovens and ranges tend to last a few years longer than their electric cousins, with an average span of around 16 years; electric models average 13 years. For both types, the true range depends on how often you use the appliance; seeing as the oven and range combo is one of the most hard-working appliances in your home, it's good to know what you can do to preserve it! 
Many people use their stove every day and the oven component every other day. If you use it that frequently, the oven's lifespan is likely to be the average stated above, though there's much you can do to extend it. How can you make sure that your oven and stove work well for as long as possible?
How Can I Keep My Stove And Oven Going Strong?
To maintain your stove and oven and get them to 16 years (or more!), be sure to clean them regularly. Maintenance every year or so can also make sure that your oven and stove have an above-average lifespan. Follow these tips to get more out of your appliance:
Clean the oven and stovetop as soon as it becomes dirty.

After cooking, make sure to wipe off any spills after the oven has cooled down. You should give the interior of the oven a dedicated scrubbing at least four times a year, but it doesn't take any supplies you don't already have – if you have an electric model, unplug it and wipe down the inside with warm water and dish soap.

Don't overuse the self-cleaning mode.

With temperatures reaching 900-1000°F, it is very hard on the oven's components. When you need to use this function, make sure you use it correctly, following the manufacturer's guidelines.

Take proper steps when cooking to minimize mess.

When your oven's dirty, it will be much less efficient, and it will work harder doing basic tasks. Use caution and care to minimize drips from cooking and baking; however, do not put aluminum foil on the bottom, as this can cause oven failure.
Make The Right Appliance Investment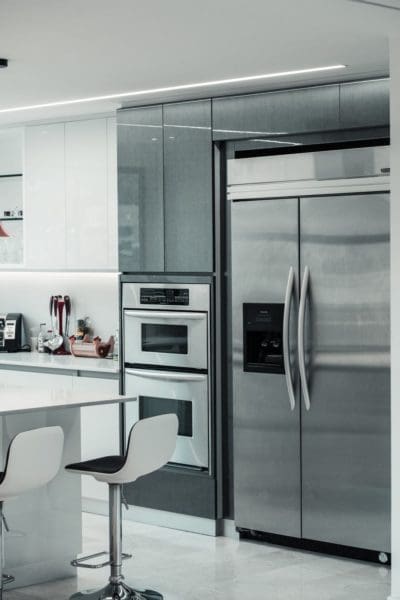 Keeping your oven and stove going strong often depends on the quality of the investment in the first place. If you purchased a well-made model from a trusted manufacturer, it should last longer than a used oven or stove with lower-quality parts.
Many homeowners think they have to opt for something used to get a deal on a high-end model, but this isn't so! Ourr Appliances is wall-to-wall overstock and scratch-and-dent appliances – perfectly good makes and models that manufacturers and retailers didn't think were worth their showroom space. You can get a high-quality appliance that will make it to the average lifespan – and, if properly cared for, beyond – at an affordable price!
Check The Age Of Your Oven And Stove
If you have moved to a new home with appliances already in place, you might not know the age of your "new" stove and oven. You can check this information by examining the serial number plate, tag, or sticker, as most newer appliances use this spot to state the manufacture date. To determine the age of older ovens, you might have to search the serial number and brand name online, but that will take only a few seconds on Google!
Please follow and like us: