The fridge is much older than most consumers think, dating back to the 1800s! In the last two centuries, most of the improvements existed largely behind the scenes – there's a reason we no longer call it an "icebox." Electricity made the fridge a much handier appliance, and for a while, that was enough. Most advancements, like ice makers and water filters, have been with us for decades now.
The next big leap is called the Smart Refridgerator. This type of appliance combines this common household appliance with your home's internet connection. 
What Is A Smart Refrigerator?
A smart refrigerator is one that's connected to the Cloud via your WiFi. Many models include a touchscreen, but this isn't a requirement for a fridge to be "smart." Depending on the features built into the fridge, it lets you take more actions, track your foods, and learn more about the contents inside. Many features may pique your interest: 
Use your smartphone to see what's inside

Send and receive notes and calendar listings that can also appear on the fridge's screen.

You can look up recipes, some even syncing with a built-in smart assistant like Amazon Alexa or Google Assistant. 

You can use the interface to interact with other devices, such as sending or receiving messages to or from your smartphone, or acting as part of your smart home setup with other appliances in your home. 

The touchscreen can bring up – or you can upload photos yourself – for the display screen.

Some models let you create individual profiles for each family member.

Some fridges even let you know the expiration dates on the food you have, helping you waste less food!
Few manufacturers currently make this type of appliance: LG, Samsung and GE's Café brand are all leaders in this sector. Each has only a couple of models with connectivity features. Whether we'll see more on the market depends on consumers finding the features useful – and worth spending more money.
Beyond The Screen: What Else Can A Smart Fridge Do?
The range of this kind of fridges come in a range of prices, too. As we said up top, you don't need a screen to have a smart fridge: some models provide both cold and hot water that you can control with your smartphone. Others include programs that determine when you are running low on certain foods and remind you to pick up items when you're at the grocery store. 
Some smart fridges can tell you if you've left the door open. They have sensors in the door that can also open the fridge with a slight touch or movement of your foot – perfect for when your arms are full of groceries! 
Smart Fridge Security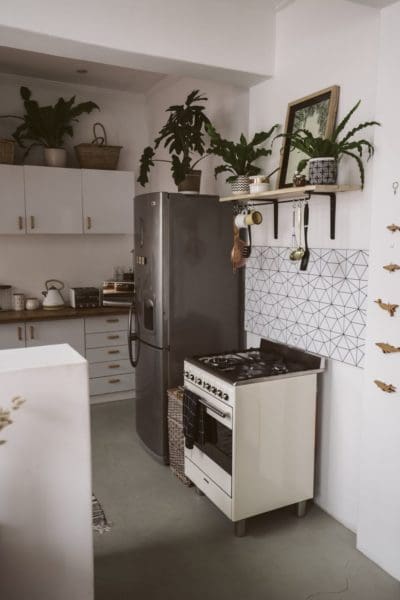 The smart in smart refrigerator refers to its built-in computer, and the log-in information you use to could be taken by malicious parties. While you may not care whether someone knows how much pop you have in your fridge, they can use the password in other places. If you have a smart fridge with a log-in requirement, it's important to use a unique password!
If you choose to add a smart refrigerator to your kitchen – or any smart home technology – you might want to make sure you have extra security. You should have your router or modem set up with proper security and complicated passwords so that every connected device and appliance is safe from unwanted users.
Please follow and like us: