Some items come into Ourr Appliances that the manufacturer considers damaged. In reality, nothing is wrong with how they work – it's more with how they look. These we call "scratch and dent" appliances, and you can buy these products at discounted prices. It's a great way to invest in high-quality appliances and save at the same time! What can you expect from looking through our scratch and dent inventory?
What Is A Scratch And Dent Appliance?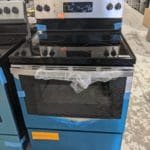 In the retail industry, "scratch and dent" appliances are those with a few superficial bumps and dents, but otherwise, they work well. The dings come from the shipping or warehousing process – the superficial scrapes might make them less appealing to discerning customers. 
You don't have to fear the scratch and dent label. Appliance stores assign the term to goods that have cosmetic issues – the machine will still function properly! The damaged areas are usually on the surface, and they affect nothing more than the visual appeal. In many cases, the damage is near the back or sides of the product; as such, no one will notice them once you install the appliance in your home.
Often, the label doesn't even have to be on the actual product! If any damage shows on the external packaging during transit, it can be enough to qualify the device as a discounted scratch and dent appliance.
Of course, if you're in the market for something that looks perfect, scratch and dent stoves, fridges, and microwaves could have imperfections that face out. However, if you're more interested in deals, scratch and dents are for you!
Why Choose Scratch And Dent Appliances?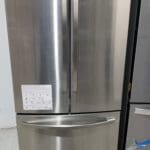 Since scratch and dent items are technically damaged, you can often purchase these products for a discounted price. It's a great way to invest in high-quality appliances and earn amazing savings. 
By adding scratch and dent appliances to your kitchen or laundry room, you can buy a brand-new oven or stove in near-mint condition for the cost of a used model. Sometimes, you can snag a deal up to 40 to 60 percent off the regular retail price.
The one catch with scratch and dent appliances? You can't be guaranteed to get the model you want! That's why it's important to shop with a plan. By doing this, you can buy a product that suits your home and needs rather than settling. When planning your appliance purchase, narrow the type you want with a list of features. For instance, if you are looking for a new fridge, is a filtered water dispenser a make-or-break feature? If so, you might not find the scratch and dent appliance you want.
If you come to Ourr Appliances looking for a scratch-and-dent deal and find exactly what you're looking for, jump on it. Such a deal may never come again!
Please follow and like us: