Is your refrigerator's freezer not enough space for you and your family? An additional freezer can benefit the home by providing extra space for vegetables, desserts, and bulk orders of foods like meat. It's also ideal for preparing meals ahead of time or stocking up for an emergency. You'll find freezers in two models – upright and chest. Which one is right for you?
To help you make the best choice for your home, here are the pros and cons of upright and chest freezers.
Pros & Cons Of Upright Freezers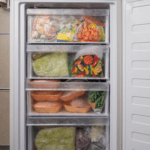 Upright freezers, sometimes called stand-up freezers, are vertical. It's a taller storage space with shelves for easy organization. These freezers also often have more features like auto-defrost.
The freezer's layout means it's a lot more convenient for users in small spaces like apartments. Because an upright freezer requires less floor space, it's easier to clean; the items within are easier to reach, too.
However, the standing design of the upright freezer means there's less space for large items, with the probability of faster fool spoilage than the chest freezer during a power outage. These appliances tend to be more expensive than their chest-sized counterparts and often have a shorter lifespan of 10 – 15 years.
Pros & Cons Of Chest Freezers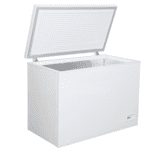 Chest freezers have their own pros and cons. These are freezers that lay horizontally, and as such, they have more storage capacity than upright freezers. They are ideal for extra-large items or deep freezer storage while also being more affordable for the average homeowner.
On the other hand, chest freezers are more energy-efficient, making them less expensive to run. Should the power go out, chest freezers can keep food fresh for a longer time using an airtight locking seal at the top. The appliance can also run without problems for 15 to 20 years!
Many of the cons come down to their size. Chest freezers tend to take up more floor space, making them awkward to place in smaller homes. They can be harder to clean, and items within them can also be harder to reach, especially users with mobility issues. These freezers also tend to have no features like auto-defrost and fewer organizational baskets and shelves.
How Can I Pick The Right One For Me?
Like many appliances, your final choice often comes down to cost and space. Chest freezers are less expensive, but since they require more room, you must have the space to accommodate them. There must also be enough headroom to lift the top.
Upright freezers require less floor space, making them ideal for small apartments or rooms, but the door must have enough room to swing open in the right direction. There must always be at least an inch behind the freezer, so you cannot install it flush against the wall.
Please follow and like us: