Cleaning a dirty oven is one of the messiest kitchen-cleaning jobs on your chore list. It can take a long time to clean because many of us don't see the residue that comes from cooking or baking, letting these bits of food sit and bake onto the inner walls and window of the oven.
While the process we're about to describe isn't short, it's one of the quickest ways to clean your oven. Do it at the end of your cleaning cycle, leave it overnight, and you'll have a clean oven without putting in a lot of elbow grease. The best part is that you can do it with ordinary kitchen supplies!
Cleaning Your Oven Without Taking A Lot Of Time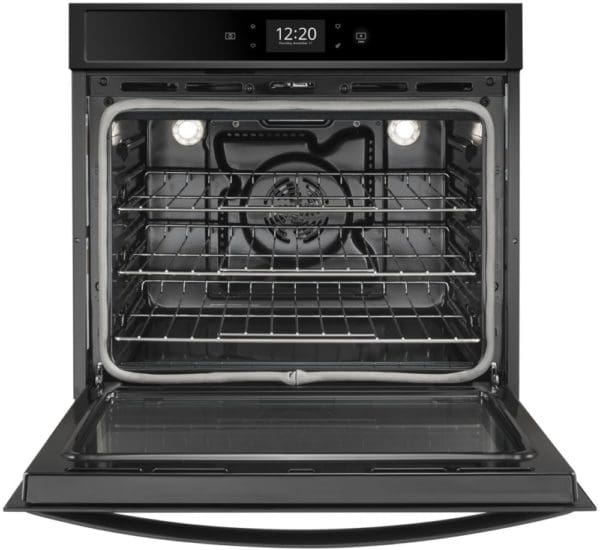 Before cleaning your oven, empty it: take out any sheets, bread stones, racks, the oven thermometer, etc. You can clean those in your sink like you would your dishes. 
Next, combine half a cup of baking soda with a couple of tablespoons of water in a mixing bowl. (You may need to balance the amount based on the size of your oven.) It should form a paste, and you can spread it on the inside of your oven, getting it on every part except the heating elements. 
Let the mixture sit overnight in the oven for at least 12 hours. Expect the baking soda to turn brown as it works on the residue in your oven. The next day, spread vinegar over the surface and give it some time to react with the paste. Scrub it with a paper towel or clean cloth – you will find that the stubborn debris is much easier to get off! 
How Often Should I Clean My Oven?
How often you clean your oven depends on how often you use it! Cooks and bakers who rely on as an everyday appliance should scrub it at least once every three months. For those who use it
rarely, cleaning it about once or twice a year is enough. 
Of course, it could need cleaning before then! There are signs to look for, such as: 
You notice residue on the bottom of the oven or that there's splattered grease on your door. 

You detect smells coming out of the oven. This means that there is grease, dirt or food splatter on the inside. 

You see smoke or detect a smouldering odour coming from the inside of your oven when it heats up.
All of these are ordinary signs your oven needs cleaning. If you want to make cleaning your oven a regular thing, place a pot of boiling water on the bottom rack after cooking and let it steam for 30 minutes. Then, wipe off the residue with a paper towel.
Please follow and like us: