If you're living in an apartment or are renting one out, you'll know first-hand how space is a premium. The limited room can affect what you pick for your washing machine, and while you may have to settle on the size, choosing the right appliance means finding a model that will fit while not sacrificing any performance. Here's how you should shop for a washing machine – and some of the best choices for an apartment setting.
What Should You Look For In An Apartment Washing Machine?
You have to make the right choices about how to outfit the living space so that you or your tenants can make the most out of the appliances. Luckily, small machines don't skimp on top-notch features these days. You can find many models that have settings for all clothes, sheets, and fabric types.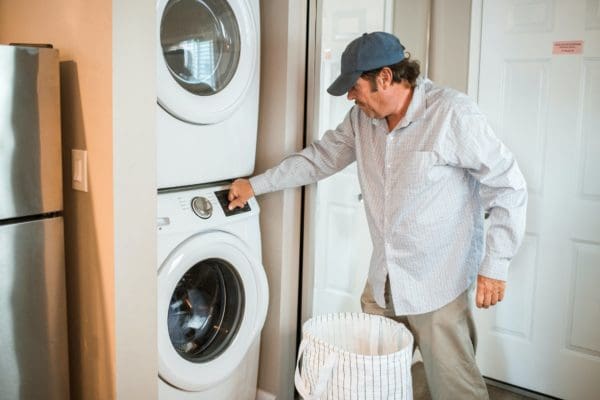 The ideal machine for an apartment is the compact front load model. They generally have a 24-inch width, making them an option when space is tight. You can also have them stacked with a matching dryer to save even more floor space. Height and depth may vary, but they are the most apartment-friendly kind of model. For a high-quality compact front load washing machine, go with a company you can trust: Whirlpool. 
The Best Choice: Whirlpool Compact Washer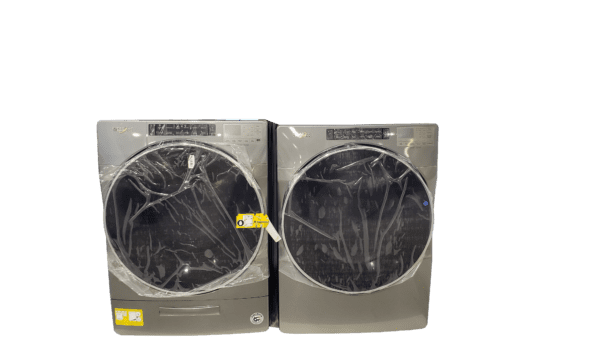 To make the most out of your apartment space, choose a space-conscious appliance that doesn't sacrifice key features. The Whirlpool 2.6-cubic foot compact washer is designed to fit in virtually any space, measuring only 24″ wide. With convenient features like the front-loading design and Quick Wash setting, this washer is perfect for those who want to get the most out of their appliances.
Despite its size, the Whirlpool Compact Washer gives a household tailored fabric care. The features give users ten cycles and up to ten options to choose from, letting them match the settings to the fabric type and soil level of each load. Every receives customized drum movements to provide consistent and exceptional fabric care.
This is the model we know you'll want to have. But if you already have a front-load washer – say, an LG model – and you need to expand capacity, we have just the compact option available!
Expanding The Power You Have:
Smaller capacity usually means more loads and time spent doing laundry. This can be all but unavoidable in an apartment, but many innovations expand how much laundry you can do! One of these is the LG Sidekick Pedestal Washer.
While it looks like an everyday pedestal, the LG Sidekick is a 29-inch wide mini washer that pairs with almost every type of LG front load unit. By adding one to your apartment's machine, you can wash two loads at the same time! The main machine does the biggest, bulkiest family-size loads like towels and bedding, while the SideKick gives delicates, hand washables and workout wear some special care. With an LG pedestal washer in the apartment, you can expand your laundry capacity without taking up much more space!
Please follow and like us: