When buying a new fridge, more and more consumers look for models with the refrigerating and freezer sections next to each other, with both compartments having their own doors. The added convenience these side-by-side refrigerators bring is making these models in-demand over traditional style with the freezer on top and refrigerator below.
What Are The Advantages Of A Side-By-Side Refrigerator?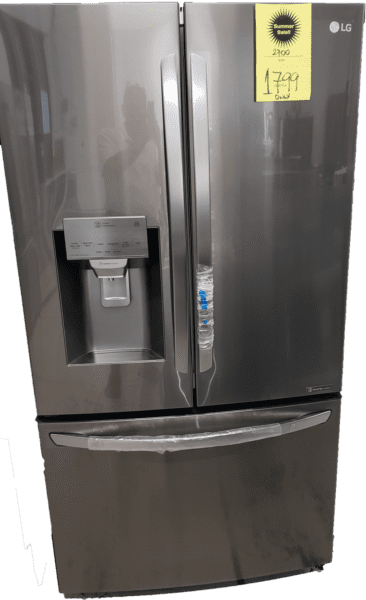 One of the main advantages of side-by-side fridges is the convenience of their layout. These models let you store items from top to bottom so you can arrange the foods, drinks, and ingredients you need most often at the top for better access. Getting everyday items doesn't require the user to bend over like bottom or top-mount models.
The access to the freezer also makes it less likely that you'll lose items in the freezer. Having the freezer on the side gives you significantly more shelf space to make everyone's favourites easier to locate and grab. It also reduces the amount of food you may lose to freezer burn.
These fridges save swing space, too! The doors on side-by-side refrigerators are smaller than two wide doors of conventional two-compartment fridges, making them great in kitchens with limited space. If you're now convinced to bring one into your home, here are the top three models for this year!
The Best Side-By-Side Models For 2021
Are you looking to add a side-by-side refrigerator to your kitchen? Here are the best models for 2021:
LG 26 Cu. Ft. 3-door French Door Refrigerator: Equipped with exterior water and ice dispensing systems, the LG 3-Door French Door Refrigerator features Door-in-Door®, Smart Cooling® system and is compatible with the LG SmartThinQ™ app to help you control it from anywhere. It has a fingerprint and smudge-proof finish, making it easy to keep clean!
Whirlpool 36-inch Wide French Door Refrigerator with Water Dispenser:

This fridge has the space you and your family will need. With its interior capacity, adjustable door bins, and dedicated pantry drawer, you can store and organize all your favourite foods for better access. The internal water dispenser means fresh, chilled water is always at your fingertips, with this unit kept inside so that the surface is clean and uncluttered. It also comes with ENERGY STAR® certification, so you'll save money on electricity, too!

LG 36″ Smudge Resistant Refrigerator:

This LG model has WiFi connectivity and Dual Ice Makers. The Slim SpacePlus® Ice System provides more shelf space and allows even more space for door bins and dual ice makers, dispensed from the door and located in the freezer compartment, produce large amounts of ice, so you never run out. The Smart Cooling® System keeps conditions more agreeable within the refrigerator, while the Linear Compressor reacts quickly to temperature fluctuations to keep your food fresher for longer.
Please follow and like us: