If you're shopping for a dishwasher, you'll notice that there are two material types for the interior of the appliance: stainless steel and plastic. This interior is called a "tub," and regardless of the material, the tubs of today are sturdier and last longer than the metal tubs of the past. But with the options before you, what's the best choice? Here's how stainless steel and plastic stack up against one another. 
Why Choose A Stainless Steel Tub? 
Dishwashers do more than clean dishes – the water temperature must reach very high temperatures, up to 160 degrees Fahrenheit, to efficiently kill bacteria and give the pots, pans, and dishes inside a better, more sanitary clean. It's one of the reasons many people choose stainless steel tubs. 
Because the material can withstand more heat, stainless steel may also clean your dishes better: the water can go up to a much higher temperature without negatively affecting the interior. The drying cycle can also be much more efficient, resulting in lower energy expenditures.
Stainless steel tubs are also known to make the appliance quieter, as the material betters absorb noise to lower decibel ratings. It's also more durable than plastic, resulting in fewer water stains and odours and more years of use. In some cases, the tubs can easily be ten-decibel points lower than their plastic counterparts!
Are There Cons To Dishwashers With Stainless Steel Tubs?
While dishwashers with stainless steel tubs have a reputation for being more resistant to corrosion, it's a benefit that depends on variables like your water hardness levels. Hard water with high calcium levels will result in water stains, which will require periodic cleaning to maintain a sleek appearance.
Some premium models include built-in water softeners, but these increase the price of the appliance. Regardless, the price of a dishwasher with a stainless steel tub is, on average, much higher than plastic-tub models.
What Are The Pros Of Plastic Dishwasher Tubs?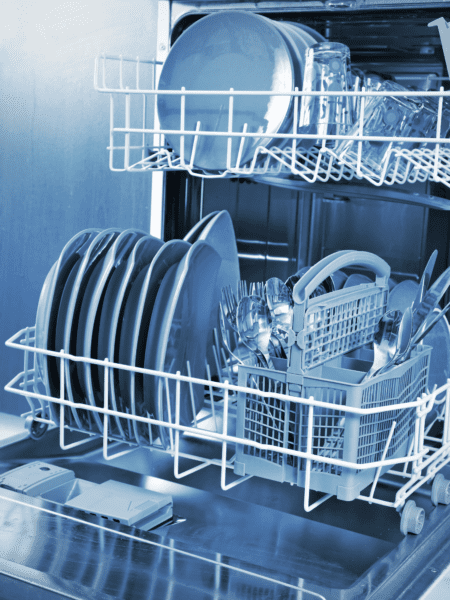 The main benefit of plastic dishwasher tubs is the cost. Dishwashers with plastic tubs will cost you only a few hundred dollars, while a dishwasher with a stainless-steel tub can go for more than $1,000. If you can handle the potential for more noise and are OK with cleaning the tub more often, you can still get a high-quality appliance. 
It's no secret that a dishwasher with a stainless-steel tub has many benefits that can make your home quieter, more energy-efficient, and easier, but this quality comes at a price. If you're looking to add more appliances, you can feel comfortable that your plastic-tub dishwasher will still get the job done. 
Many of the great brands you'll find at Ourr Appliances offer beautiful styles, so even with the plastic, you won't feel like you're missing out on a premium model!
Please follow and like us: