If the freezer on your fridge never seems to have enough space, it's time to bring in a standalone freezer. The two choices you have are chest freezers and stand-up freezers, but which one is right for you? Here's the information you need to make the right choice for your needs!
The Pros & Cons Of Chest Freezers
A chest freezer is your standard home appliance: a deep freezer with a top lid that opens like a chest. Most of these models are rectangular, with some more compact models shaped more like a cube. The pros of chest freezers include: 
Consistent temperatures.

The temperature in a chest freezer stays consistent because it doesn't have a self-defrost system.

Lower chances of freezer burn.

Because air doesn't circulate as much in a chest freezer, there's a lower chance of freezer burn than in a stand-up freezer.

More useable space.

The simplicity of the interior means chest freezers have roughly 20 percent more usable space than stand-up models. 

They work better in an emergency.

In the event of an electricity outage, a chest freezer will keep your food frozen longer than a stand-up freezer.
The drawbacks can include: 
Difficult organization.

It's harder to organize and find the food you need in a chest freezer without searching and removing items.

Space.

While you might get more useable space, chest freezers take up more space. For instance, a 22-cubic-foot chest freezer uses a rectangle floor space of 2 feet by 6 feet, making it impractical for many kitchens.

They can be too simple.

Chest freezers have one purpose. This can be a drawback for those who need a freezer for specialty cooking or business.
The Pros & Cons Of Stand-Up Freezers
Stand-up or upright freezers look like refrigerators, but all the interior space goes to freezing foods. The pros of stand-up freezers can include: 
Organization.

Upright freezers have shelves and compartments that make it easier to organize.

They take up less space.

A 22-cubic-foot stand-up freezer takes up 2.5 feet by 2.5 feet of floor space. In many kitchens, these freezers provide more space and a better flow.

Easier to match other appliances.

Stand-up freezers typically come in a wider range of finishes than chest freezers.

More features.

Many upright models have more functionality, such as quick freeze modes, exterior control panels, etc.
The drawbacks can include: 
Less space.

As mentioned above, stand-up freezers have less space than most standard chest freezer models.

Inconsistency on the shelves.

Though they are convenient, the temperature of door shelves can be warmer than the inside of the freezer.

Noise.

Upright freezers tend to be noisier than their chest freezer counterparts.
Chest vs. Stand-Up Freezers: Cost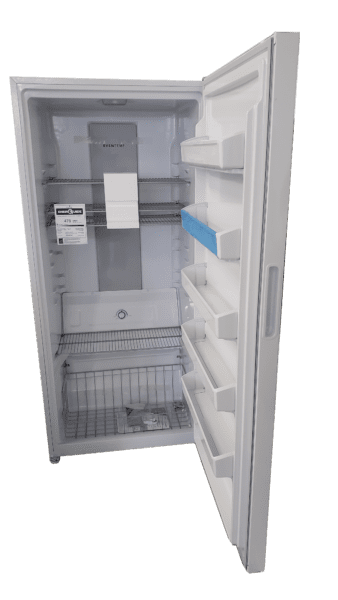 For most appliance buyers, the choice comes down to cost. Here, chest freezers have an advantage over stand-up freezers: on average, chest freezers tend to be about $100 cheaper than upright versions.
Whatever your needs, you'll find the right freezer for your home at Ourr Appliances. Before coming into our showroom, make sure to measure the space for either type of freezer and add at least an inch to the width; this will accommodate the necessary airflow around the unit!
Please follow and like us: