It's the last barrier between you and mouth-watering homemade meals. Your oven sees a lot of action and it deserves a bit of TLC. But what is the best way to care for your oven door?
A dirty oven can lead to annoying kitchen mishaps, from foul smells to smoke to stained glass – and not the pretty kind. In the worst cases, it can even become a fire hazard. Replacing ruined panes of glass can get costly, so let's figure out how to properly clean the window of an oven.
When Is It Time To Clean An Oven Door?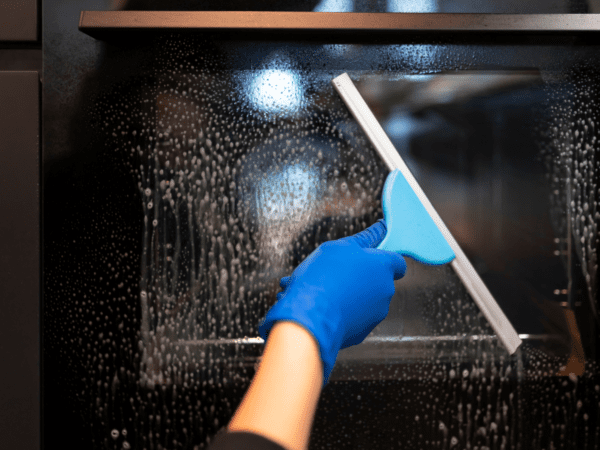 While waiting for a meal to finish or a loaf of bread to rise, you've likely opened the door to your oven to check on it. Opening the door during the cooking process is a habit some people fall into, but it is not how things should be!
If it's easier for you to open your oven door and peek inside than it is to see through the glass, the grime has gone too far. Food splash either from within the oven or that has dripped down from the stovetop or through the vents can bake onto the door, discolouring and clouding the glass.
An oven door is made with multiple different materials. Stainless steel and metal have different needs than glass. Don't let that overwhelm you! There are ways to get every inch of that impressive appliance clean.
Where Do I Start?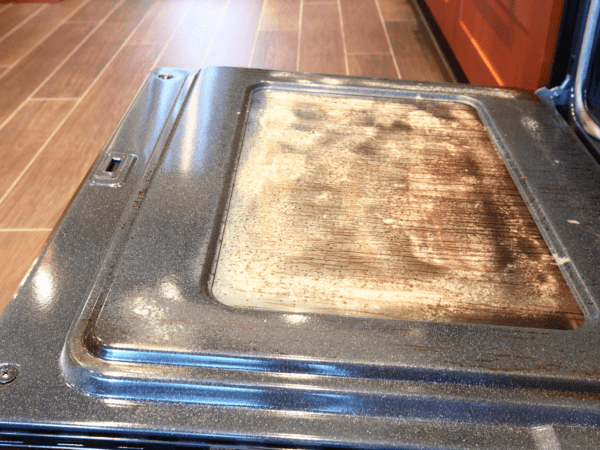 Arguably the most daunting part of cleaning any large appliance is figuring out how to get into all the creases and crannies. Consider investing in a "snaking" cleaning tool, or build your own by securing a glass-cleaning cloth to the end of a coat hanger wire or yardstick. Dampen the cloth and feed your tool through the bottom of the oven door, between the panes of glass.
Not every part of the oven can get clean with one tool, though, and attempting to wipe away heavier spills with this method may smear it into harder-to-reach areas. In this case, put on the work gloves and dismantle your door carefully with a slot screwdriver. Once removed, take the pieces apart, and the deep cleaning can begin.
Clean the glass with your favourite glass cleaner, and remove baked-on food with steel wool or a scraper. Use your own judgement; if a surface is textured, a highly textured tool could scratch it. Save money and enjoy the fruits (veggies, meats, et cetera) of your labour with your newly cleaned oven door.
Please follow and like us: