Cleaning stainless steel appliances can be a daunting task. They can easily become dirty and smudged, making them look less than their best. Read more to learn the best ways to clean stainless steel appliances and keep them looking shiny and new!
When it comes to cleaning stainless steel appliances like stoves, dishwashers, or fridges – there are a few things you'll want to avoid. First, never use harsh chemicals or abrasive cleaners as they can damage the finish. Second, steer clear of using steel wool or anything else that could scratch the surface. Finally, make sure you rinse thoroughly after cleaning to remove any residue.
Baking Soda & Water Paste
Now that you know what not to do, here are a few tips on the best way to clean your stainless steel appliances. One method is to make a paste out of baking soda and water. Apply it to the surface with a soft cloth and rub in a circular motion. Rinse clean and dry with a soft towel.
White Vinegar & Water
Another option is to use white vinegar. Simply dilute it with water and apply it to the surface with a soft cloth. Rub in a circular motion and rinse clean. You can also add a few drops of essential oil to the mixture for a pleasant scent.
Stainless Steel Cleaners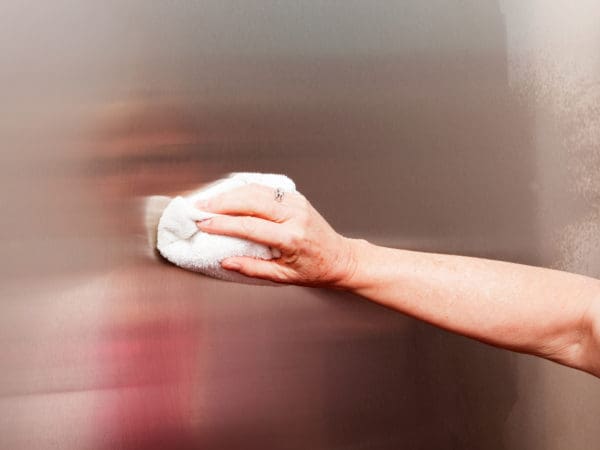 Finally, consider using commercial stainless steel cleaners. These are typically aerosol sprays or wipes and can be found at most hardware stores. Be sure to follow the directions on the packaging.
With a little work and the right cleaner, you can easily keep your stainless steel appliances looking spotless and brand new in the kitchen!
Please follow and like us: