It's no secret: energy costs are going up. These days, when you're looking for home appliances, you have to factor in how much electricity they will use. One way to cut down on the costs is to purchase new energy-efficient appliances. How much can you save on hydro by buying new? Over the lifetime of the device, it can add up to a lot of money!
How Can I Choose The Most Energy-Efficient Appliances?
One other way you can save money through energy efficiency is through using energy-efficient appliances such as Energy Star-certified appliances. According to Direct Energy, you could save hundreds of dollars over an appliance's lifespan by choosing one that's certified by Energy Star.
Energy Star is a program that promotes energy efficiency. While the program is run by the U.S. Environmental Protection Agency and Department of Energy, companies and our Federal and provincial governments use the same program in Canada. Through Energy Star, you'll find information on a given appliance's energy consumption in different standardized methods.
Energy efficiency gives buyers an advantage over choosing used models. If you want the latest technologies or certain appliances like dishwashers or microwaves, your best bet is to buy a new one, as your used choices will be very limited. Don't think this means shelling out a lot, though – you can still save money on new models by going with open-box or scratch-and-dent appliances. These devices run at lower prices because a customer or store opened the box or the appliance has superficial dents that don't affect how well it operates.
How Much Hydro Can You Save Buying New Energy-Efficient Appliances?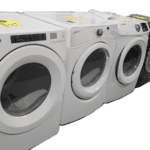 On top of your savings by choosing an open-box appliance, Energy Star-certified appliances will use roughly 10% – 50% than a comparison model and much less if you're replacing an old one. It means, of course, your bills related to the hydro powering it could be lower, too!
While it's hard to get an answer for every user, Direct Energy reports that Energy Star-certified appliances can save hundreds of dollars over their lifespan. A washing machine with a lifespan of 11 years, for instance, can save you $40 per year, accumulating savings of $440. Comparable savings are available from switching your other appliances to more energy-efficient ones; for instance, you could save $160 over the lifespan of a clothes dryer. An Energy Star-certified washing machine can reduce your energy costs by over 30% and cut water consumption by more than half!
Energy efficiency enhances the economy in other ways, too! It puts money in the pockets of several people via the creation of several new jobs within the energy industry. Jobs related to energy efficiency accounted for more than a third of all new energy jobs created in the United States in 2018, and it promises similar effects here in Canada.
At the consumer level, energy-efficient appliances translate into hydro savings for home and property owners. Households across London are saving hundreds of dollars every year due to increased efficiency standards, so use the Energy Star logo to identify the appliances that can bring these savings!
Please follow and like us: