Even though it's the dishwasher's job to wash and sanitize your dishes, it still needs washing of its own every now and then! It's not a complicated chore, either – most of what you need to give the dishwasher a good clean is among your household supplies!
Note: The following steps work for most types of dishwashers; make sure to review the owner's manual of your model before starting.
What You Need To Clean Your Dishwasher
Before cleaning, make sure your dishwasher is empty and you have the proper supplies on hand. Luckily, you probably already have the following in your pantry! 
Distilled white vinegar

to clean and deodorize a dishwasher

Baking soda

to deodorize the inside of the dishwasher and renew its shine.

Cloths, soft rags or paper towels
A toothbrush
A toothpick
Remove The Filter 
Under the bottom dish rack in most dishwasher models is the drain filter. Here, bits of trapped food often get stuck, causing offensive smells that can stick to your dishes. Pull out the racks, remove the filter, and wash it in the sink with hot water and dish soap. 
The filter can be gross, but it's simple to clean. A small scrub brush will let you dislodge any deposits and dirt. Use a toothbrush to get into any nooks and crannies or if you notice stubborn stains, bits of food, or hard-to-wash spots.
If your dishwasher is smelly, sprinkle roughly a cup of baking soda over the bottom, then run a hot water cycle as usual with no detergent.
Clean The Washtub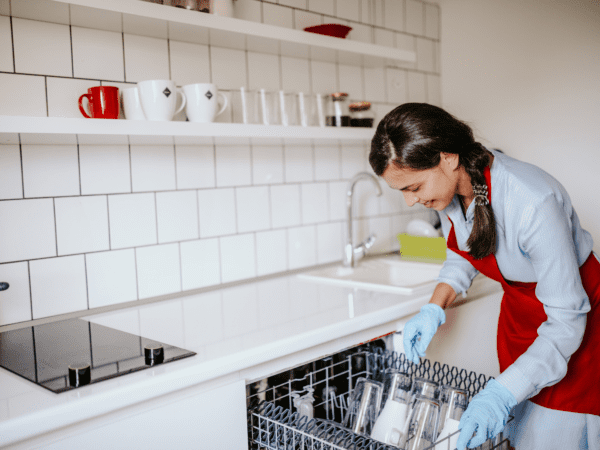 The washtub is where the cleaning magic happens, but if you run the dishwasher every day, leftover food and soap residue will make it dirty. Remove any food particles, spray the interior with white vinegar, sprinkle on the baking powder (let it fizz for a couple of minutes), and wipe the tub down with a rag or paper towel. Most washtubs today are made from stainless steel, which makes wiping simple and easy. If you have any stubborn spots, pull out your trusty toothbrush.
Clear The Nozzles
When cleaning the dishwasher, make sure all the holes are open on the spinning arms so that the water can run through them without interruption. Using a toothpick, you can clear out any debris built up in the holes.
Add Vinegar To A Bowl On The Top Rack
The final step is to place a dishwasher-safe bowl with roughly a cup of vinegar in the top rack. Close it up, select the sanitary or high-temperature wash setting, and run a cycle. It should only be your cup of vinegar – nothing else. 
How Often Do I Have To Manually Clean My Dishwasher?
As you can see, cleaning the dishwasher is one of those chores that won't take up too much of your time, but staying on top of it will help your machine run efficiently and look like new. Here's how often you should do the various steps:
Every day:

Remove food particles after emptying the appliance.

Every week:

Clean the dishwasher door, gasket, and filter.

Every few months:

Deep clean the interior with baking soda and vinegar. 
Please follow and like us: